Choose Any of Our 4 Wonderful Wedding Chapels in Las Vegas: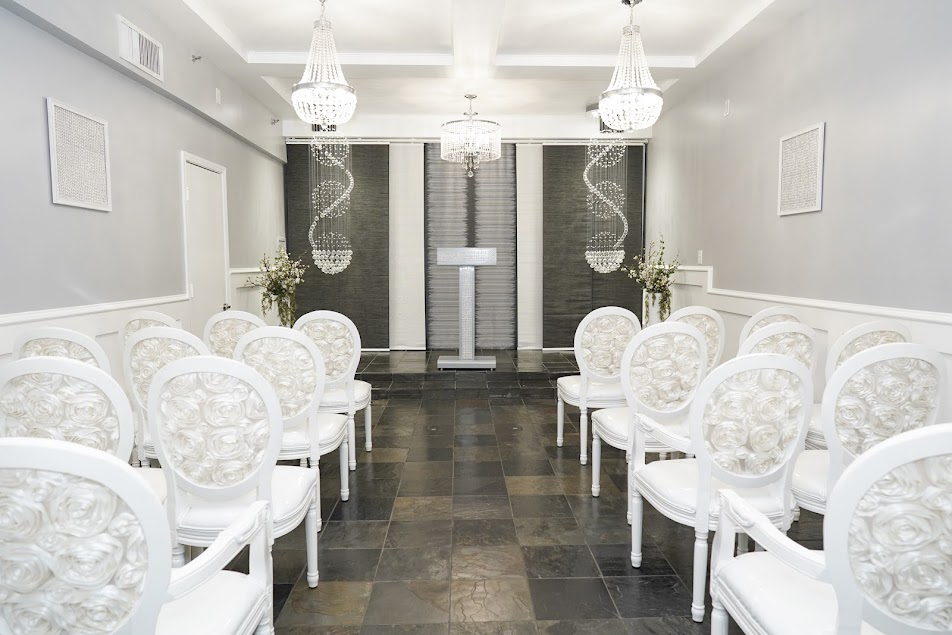 Hundreds of Dazzling Crystals Frame your Perfect Wedding Backdrop. Accommodates up to 30 Guests.
Rooftop Chapel Under the Canopy of The Tree of Love. Accommodates up to 10 Guests.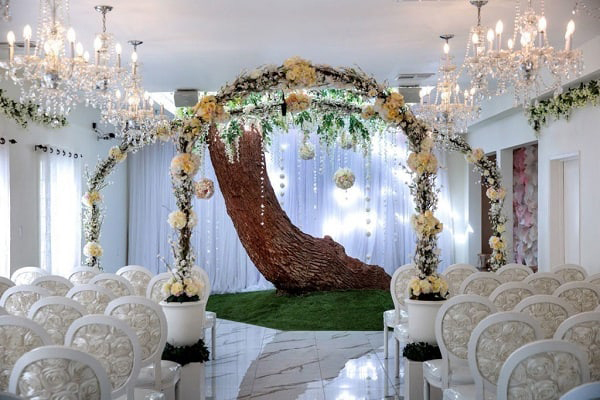 Tree of Love Chapel Features a Soaring 90-Foot-Tall Pine Tree. The Perfect Outdoor Setting in the Heart of Las Vegas. Accommodates up to 60 Guests.
Our 4 beautiful venues are absolutely elegant and unforgettable. Take a minute to explore!
The Las Vegas Wedding Chapel
Royal Wedding Chapel is the prettiest and most elegant wedding venue in Las Vegas. It is the best place to celebrate your special day and to host your reception. We listen carefully to every word you say and work closely with you to happily plan and coordinate your perfect union. Whether you're looking for a wedding ceremony, same-sex marriage, commitment ceremony, or vow renewal, rest assured we are solely dedicated to you, and we will handle your event with specialized and personalized care.When only the best will do, get joined forever at the Royal Wedding Chapel. We share your heartfelt journey and want you to know that every detail of your wedding will be cared for. After all, love is shown by attention to the minor details. Let our team of professional wedding coordinators, florists, stylists, and photographers/videographers assist you in customizing the most memorable moment of your life.
Royal Wedding Chapel
Affordable class, elegance, and romance are within your grasp at the Royal Wedding Chapel in Las Vegas. Come here for the wedding of your dreams.
Whether you prefer a tastefully traditional wedding, a themed Las Vegas wedding, or an avant-garde fantasy event that expresses your uniqueness as a couple, Royal Wedding Chapel has the right wedding package for you!
With 4 stunningly beautiful venues, we accommodate any size ceremony from 2 people up to 300. Both indoor or outdoor venues are available.
There are important things that really set the Royal Wedding Chapel apart from the other wedding venues available on the Las Vegas Strip. Most importantly, we give you time. While resort properties want to rush you in and out, Royal Wedding Chapel allows ample time between events, wanting you to feel relaxed as possible and fully tended to. Do not overlook our large bridal dressing room. While resorts seldom have them, ours is large enough to accommodate you and your bridesmaids. It has plenty of makeup vanities and mirrors.  Relax and chat, enjoy the precious and exciting moments before you get married. Rely on our wedding coordinators to facilitateevery need on your wedding day!
A wedding planner
Gowns/tuxedos
Hair styling
Makeup
Jewelry
Reception
Cake
Catering
Champagne flutes
Bar service
Music/DJ
Limo
Videography
Photography
Fresh cut or silk flowers
Unity candles
White dove release
Helicopter services
Ample dressing area for the bride and attendants, groom and groom's people
Multilanguage ceremonies in English, Spanish, German, and French. Others available upon request.
Honoring cultural and family traditions like "tying the knot" to "jumping the broom." Talk to us about your special needs.
Themed ceremonies from classy Elvis to any specialty concept your heart desires.
Impersonators
Video streaming to share your special event around the world
Room rates and bookings
Royal Wedding Chapel
Let Us Handle Your Special Day!