Our Testimonials
What Our Clients Say?
Reviews for Royal Wedding Chapel, Las Vegas
I am forever grateful for them and their hospitality, flexibility and kindness!!
Nicole Angier
Wedding Couple
I would like to take the time to thank Petra and the Royal Wedding Chapel team for making sure our wedding day was special and perfect for us. We didn't have to hesitate with anything you all were right there by our side through it all. The tree of love chapel was everything and more I recommend this venue to anyone who is wanting to get married in Vegas this is the best place to get married for sure. Royal Wedding Chapel is most definitely the number one place to go. I appreciate all your help and dedication to make our wedding day so amazing we would also like to thank Royal Wedding Chapel's photographer she caught beautiful moments and the pictures came out so amazing thank you thank you thank you everyone!
Dominique Mitchell
04.03.2021
It was an amazing experience and I'm so grateful on how easy the process was especially coming out of state! Thank you royal chapel!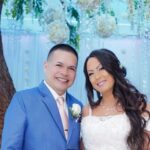 Just had our renewal there . Petra and all of the staff were so accommodating! The photographer is AMAZING and really made us feel comfortable and at ease. We had our ceremony in the Tree of Love room ...soooo breathtaking. My renewal was better than my 1st wedding and it because the staff really created a magical experience
Rick & Erica Villarosa
05.14.2022
Royal Wedding Chapel
Let Us Handle Your Special Day!
Welcome To Royal Wedding
Let's Plan Your Perfect Wedding On the Famous Las Vegas Strip
We offer the best food and drink service as per particular culture and taste Our Team make sure for the best catering arrangements as it is the most important part any wedding ceremony in all over country!