A bride aka future "wife" is rightfully obsessed with the perfection of everything for their affordable wedding or engagement. The first and biggest concern is usually the gown and followed secondly in order of importance by the photographer packages and videography services. Royal Chapel Las Vegas knows and deeply appreciates that professional photographers and video pro's perfect match make or break capturing your most cherished moments. These professionals have a profound impact on the longevity of those lifetime memorable times. Do not be concerned that fleeting special glimpse will get by. Don't sweat the quality and timeliness of your photographers. Know our professional photographers package will capture those special times. They have a wide selection of various and proven poses. They know what equipment to bring to events based on the number of people in the parties or the guest attendance lists and the activities. Nothing is worse than a photographer showing up without lights and with dead batteries and inept assistants.
Let the Vegas Royal Wedding Chapel team ease your concerns. We have a full roster of the finest photographers in the area. We've worked with most of them for many many years. We refer only to those who know their craft and most importantly, they are "people people," dedicated to meeting your satisfaction.  Additionally, they are punctual at both meeting your deadlines and furnishing your finished wedding pictures and videos online and on time. You will not be one of those waiting for weeks and months after your big day experience. We use only the best.
Here are some things to consider for your marriage in Las Vegas. And if you don't see something you want, just ask.
Personal Wedding Planner
Marriage License
Themed Wedding
Wedding Photography & Videography
Gowns & Tuxedos
Multilingual Ceremonies
Impersonators
Hair Styling & Makeup
Fresh Cut or Silk Flowers
White Dove Release
Unity Ceremony
Cake & Catering
Champagne & Bar Service
Music & Live Music or even a DJ
Guest room rates and bookings
Bridal Dressing Room
Royal wedding Chapel has a generous bridal dressing room that can accommodate the bride and all the bridesmaids. Relax and chat with a cold beverage from the wine cooler. Be ready to take gorgeous pictures in the bridal suite to show your partner once the party is over! We ensure you feel beautiful and comfortable so you're ready to say "I do!". It is one more way we make your day special and an example of what really sets Royal Wedding Chapel apart from the other wedding venues in Las Vegas.
Live Stream Your Las Vegas Wedding
Our chapels are equipped with options for live streaming your wedding with high definition video and sound. We make it easy to stream your wedding live to friends and family that couldn't travel to Las Vegas. They get to to be with you even if they can't be in the room. They simply follow a link and tune in at the time of your wedding to watch the whole ceremony live.
My destination wedding was amazing. More than I could have ever imagined. Thank you Royal Wedding Chapel.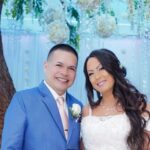 Just had our renewal there . Petra and all of the staff were so accommodating! The photographer is AMAZING and really made us feel comfortable and at ease. We had our ceremony in the Tree of Love room ...soooo breathtaking. My renewal was better than my 1st wedding and it because the staff really created a magical experience
It was an amazing experience and I'm so grateful on how easy the process was especially coming out of state! Thank you royal chapel!
Videographer Las Vegas
It genuinely tells a story of your love and is priceless when the day is over, and everyone you have got left is those memories. Mostly from our clients, we hear that the day just blew by and that they honestly don't recollect it that well. Videos rouse life that can't be expressed through an image and is a tremendous thanks to showcasing your love for each other. Still, their photos, particularly their wedding video, help them reminisce about the day and be a part of all the moments they'll have missed like their parents crying and their friends having fun at their table during the ceremony. We think every of the primary essential parts of this whole process is to know our couples personally to tell their story. Videographer Las Vegas will put the full time to get into every detail of your video, from the fonts to the song and every single transition
We can work together to take a photo or film your day through both images and video. But if you would like only one or the opposite. Still, if you're eloping in surrounding states (or National Parks), we are always up for traveling to its exceptional location! When it involves gear, you would possibly call us gear heads—we nerd out about all things cameras, lenses, mics, music, and more. Videographer Las Vegas shoots along with two or more cameras to induce loads of different angles, always working hard to create your wedding video look incredibly cinematic. We are passionate about what we do; planning to be elopement videographers in an urban center could be a dream come true. We love becoming friends with the most straightforward clients and making their wedding photo and video vision a reality. Videographer Las Vegas will not wait to fulfill you and celebrate your wild love for each other.