You're coming to Las Vegas and there's no time like the present to get married. You've been talking about it for years, it seems. You've thought about all your options. You could do like the one girlfriend who had a massive and gorgeous church wedding in her hometown with eight attendants and a horse drawn carriage, but that's just not you. You could have a pathetic understated justice of the peace ceremony at the courthouse, no way! An affordable and fun Las Vegas wedding chapel is right at your fingertips and the perfect choice! 
Whether you're eloping or searching for a terrific venue that family and friends will appreciate, enjoy, and remember, look no further than the Royal Wedding Chapel. We are dedicated to keeping things as simple and easy as possible for you.
We want you to be worry free and happy. And, of course, we want to make things affordable for you. We have a full complement of very popular, full-service, all-inclusive wedding packages for under a thousand dollars!
Located in the famous Thunderbird Boutique Hotel near the Top of The Strip, we are convenient to Harry Reid International Airport, downtown Las Vegas, and of course the highly desirable Strip. You get all the benefits of being on the Strip without paying the crazy high prices.
Our wedding packages start as low as $229 but call and contact us for up to the minute special savings.
Looking for something more? Consider these 3 popular options, all for under $1,000.
Charming Moments Wedding Package

Our "Charming Moments" package accommodates up to 30 friends and family in the beautiful and naturalistic Tree of Love Chapel wedding venue. You get traditional wedding music, a 3 rose wedding bouquet, a boutonniere, a personal wedding coordinator, use of the exquisite Royal Bridal Room, 9 digital photographs, and the ceremony video.
Crystal Package

This is an optimum choice, reasonably priced to accommodate up to 10 guests. It includes silk flowers, a boutonniere, a personal wedding coordinator, wedding music and six photographs.
Enchanted Moments Package

This is a personal favorite because it is inclusive with everything from the Tree of Love Chapel to custom wedding music, a fresh cut 12-rose bridal bouquet with boutonniere, a personal wedding coordinator, use of the Royal Bridal Room, up to 30 digital photographs, a unity candle or sand ceremony, video recording, live online streaming so everyone everywhere can join in, limo service, and a complimentary bottle of champagne for the bride & groom. All for under a thousand dollars!
We have virtually everything you could ever imagine to complete your perfect wedding.
One of our four elegant chapels is sure to please you.
The Tree of Love Wedding Chapel is both romantic and elegant. Breathtakingly magical, it is nestled below a soaring 90-foot live pine tree. Bejeweled in crystals and surrounded by flowers, you'll love the intimacy and timelessly natural wonder of it all.
The Crystal Chapel
This beautiful wedding chapel lies under the glitter of chandeliers and spiraling crystals. Sophisticated elegance envelopes you and your guests. Its muted gray tiled wall is the perfectly neutral palate to showcase your dress, hair, and makeup. Never understated and always modern, this special place reflects your upscale taste.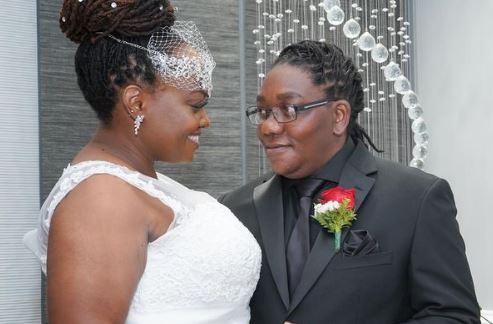 The Secret Garden is a stunning rooftop oasis of floral greenery. You'll love the intimacy of the pagoda and hedged walls. Quiet, comforting, and natural as a velvety full-length glove. Many a bride and groom have raved about this hidden gem just a stone's throw for the world-famous Las Vegas Strip.
The Royal Showroom sets the standard for a fabulous wedding experience. This is the largest facility, and it features an elevated stage, a built in DJ booth, cascading chandeliers, and crafted curtains. You'll be sure to party the night away in elegant style.
The Royal Wedding Chapel offers everything you need to tie the knot and turnkey the perfect wedding event. From bar to catering, cake, champagne, place settings, and more! We offer multi language ceremonies and have the resources, experiences, and artistic touch to make your special day absolutely magical. Ask about securing a block of hotel rooms so you and your guests can stay on site.